The following was my reply in a local Internet forum.
Being married I couldn't agree more with Luiph08 and friendly1, it's better to know the opponent gender then asking each other for single game. I remembered back in March this year during my 1st attempt to find tennis partners, there are quite a few female players asked me, I admitted it's quite embarrassing and I was not thoughtful enough, but again, if my post showing I only wanted to look for male partner, then wouldn't it become an case of sexual discrimination? Anyway, I've learnt my lesson wisely that the rule can't be indicated clearly, but it's underlying there Clearly, we just don't need to outline it so obvious, I think you guys know what I mean. In English, it's called "Dilemma (進退兩難)".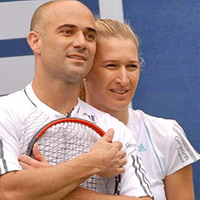 For those single guys with purpose, then it's another story, (but don't get too excited yet, especially Nurse, ha…), I read sometimes ago in discuss forum a topic named 球場上無真愛, a brother felt in love with a gal from the tennis gathering, I must say I do not agree with his biased view because I think love is everywhere, love is around us and love does exist on tennis court as well (An extreme example would be A.Agassi and S.Graf), if you do look around carefully, you will be rewarded.
Anyhow, for those guys being single, you can having single tennis game with a lady being single, it's called social networking and it's very normal, so don't be shy and ask them out for a tennis game.
Finally, who have seen the movie "The Ugly Truth" recently? I found it's quite disgusting and also very true reflecting the most basic instinct of man and woman.
Ladies and gentlemen, wish you all best of luck!
By