原廠限量500台(HK$1,900)﹐你還能自制嗎?我已經投降了!最后还是买了)﹐决不能让LP知道。今天收到了,顏色特別,車身裝飾不同,包裝精美,還有特別編號(我的是175/500)),極有收藏价值,強烈建議買!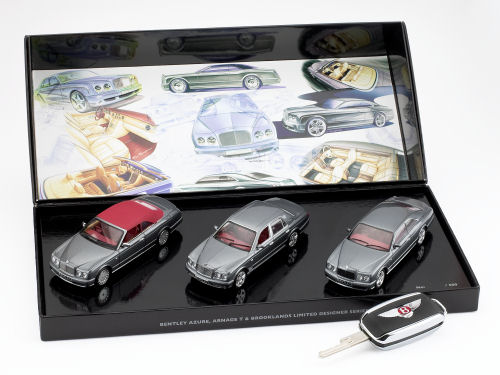 This Limited Designer Series box set contains three 1/43rd scale models in a special Black presentation box, depicting the Arnage Final Series, flanked by the Brooklands and Azure. Uniquely each box contains a montage of renderings inside the lid. These were created by our team of Exterior and Interior designers, in the Styling & Design Studio, here at Crewe.
The scale models are finished in the special silver paint colour chosen to highlight the surfaces and forms of the exterior of cars for presentations during the design phase. The interiors of the models are depicted in contrasting Hotspur, with Burr Walnut woodwork. To make the sets extra special, several unique features, not seen on previous scale models, have been added. The Azure is shown with the hood raised, the Brooklands is fitted with 20″ 5-spoke wheels and the Arnage Final Series has quad exhaust pipes, front wing vents, 20″ 5-spoke wheels and the Bentley Flying 'B' mascot.
This is a very collectable set of scale models, with each box set being individually numbered, and only a total of 500 sets being produced for The Bentley Collection.
By