After playing almost 20 years with POG, it's finally time for me to switch.
I've tried various spin-centric like rackets such as Babolat AeroPro Drive Cortex GT, Yonex V Core 100 S / Yonex E-Zone 100. Finally I've located my ultimate weapon which is Head YOUTEK IG Extreme Pro. The 16 x 19 familiar String Pattern is what I like the most about this racket as it's exactly the same as my old POG. Well, POG was one of the best spin generating rackets back in the 80s, but as tennis technology has advanced by so much in the past 20 years as well as my age/fitness, so it's finally the right time to experience the difference.
IG Extreme Pro is a very different beast in terms of stiffness mainly. Comparing to POG, IG Extreme Pro is 75 vs 62, people always say POG is one of the most arm/elbow friendly racket which I couldn't agree more. Therefore, I am afraid putting poly strings on IG Extreme Pro is going to hurt my arm.
After taking the advices from the local pro shop and my tennis partners, I've selected Tecnifibre-NRG2 Gauge 17 (1.24), a multifilament string that supposed to be much softer and arm easy than Luxilon Alu poly. In additional, I didn't go with the combination of Poly+Multi due to the same reason that IG Extreme Pro is quite a stiff racket. (ie, stiff racket + stiff poly string = tennis elbow). So the final specification is Main 58lbs and Cross 60lbs.
Finally, my tennis partner said POG is good for hitting flat balls, it's good for spin due to it's enormous string bed (107), but it did reach the end in modern tennis game which involves much more spins.
I am going to try this racket next Monday and report back my experience shortly.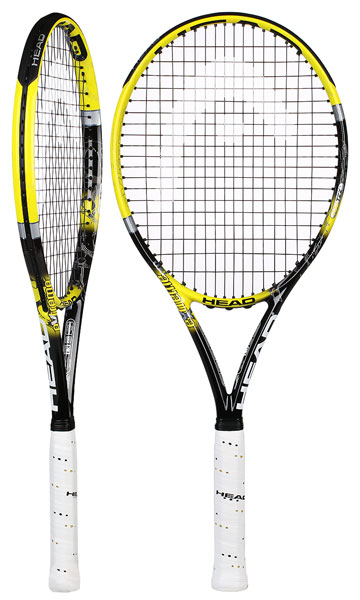 Specifications:
Head Size: 100 sq. in. / 645.16 sq. cm.
Length: 27in / 68.58cm
Strung Weight: 11.7oz / 331.69g
Balance: 4 pts HL
Swingweight: 321
Stiffness: 75
Beam Width: 24mm / 26mm / 23mm /
Composition: d3o / Innegra / Graphite
Power Level: Low
Stroke Style: Full
Swing Speed: Fast
Racquet Colors: Black / Yellow
Grip Type: Head Hydrosorb Tour
String Pattern: 16 Mains / 19 Crosses
Mains skip: 7H,9H,7T,9T
Two Pieces
No Shared Holes
String Tension: 52-62 pounds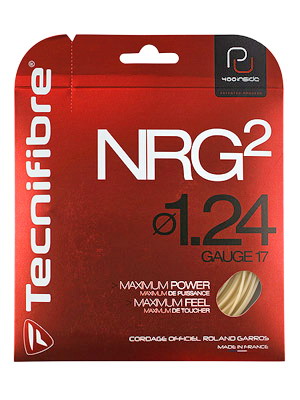 Tecnifibre-NRG2 Gauge 17
Update: Oct 5, 2011
After using Head YOUTEK IG Extreme Pro for 2 hours, I would say it's definitely one of the most amazing experiences in my tennis history. I can produce some of the wildest forehand shots from the baseline, volley at the net no longer goes long or twists like my old classic rackets. The most noticed area is my serve as IG Extreme Pro is able to produce a lot more spin and power than before. I do think I raised my game by another level 50% due to changing of the racket.
However, I do find the racket is quite head heavy as described by most reviews, other than that, it's the perfect weapon as expected.
Update: Nov 13, 2011
Tecnifibre-NRG2 Gauge 17 was broken today after just 24 hours tennis session, wow! THIS IS TOO FAST AND TOO EXPENSIVE, I must admit Head YOUTEK IG Extreme Pro indeed a string eatting monster. I am going to pro shop tomorrow and ask for advice, probably choosing Gauge  will help.
Update: Nov 14, 2011
Today I went to the pro-shop and asked around, apparently, Tecnifibre-NRG2 is one of the most popular and cost effective multi around.
So instead of going to the route of Poly (Main) + Multi (Cross), I simply use Tecnifibre-NRG2 Gauge 16 for Main and Tecnifibre-NRG2 Gauge 17 for Cross, tension is still 58 (M) and 60 (C).
Finally I noticed one negative thing about multi is multi loose tension badly after a few hits (probably 10 hours session), they start to feel like very fragile and a totally different string comparing when they are newly strung, well I don't really care as long as it won't hurt my arm.
* A tennis mentioned last month "I now play with alu power + x-one hybrid. plays very well and last bit longer than full multi-filament."
Well, if this new combination broke under 20 hours, then I will definitely give it a 2nd thought switching to his recommendation. Still my NRG last twice longer than his NRG, this must mean something (ie, he's a powerful aggressive player)
Update: Dec 13, 2011
Damn it, I broke the string again in less than 16 hours, seemed my new combination will shorten the string's life, ok, I will use Gauge 16 Tecnifibre-NRG2 for both Main and Cross next time or simply use a hybrid  instead (Poly for Main + Multi for  Cross)
Oh the feel of NRG2 is  amazing, even before it broke, definitely one of the best string I've ever  played, only it's too expensive to keep. (ie, re-string at least once a month)
Update: Dec 23, 2011
I am going back to the first choice, Tecnifibre NRG2 Gauge 17 for both Main (58 lbs) and Cross (60lbs) and see if this time it can last for more than 24 hours. If it still breaks too fast, I simply switch to Poly, hard poly for main and soft poly for cross next time.
Update: Jan 21, 2012
Well, the previous combination Tecnifibre NRG2 Gauge 17 for both Main (58 lbs) and Cross (60lbs) didn't last even for 14 hours,  it's the cross got broken this time.
I am really getting frustrated as less and less duration the string lasts, so I went back to pro-shop today and asked them to simply switch to Tecnifibre NRG2 Gauge 16 for both Main (58 lbs) and Cross (60lbs), hopefully, I can reach 20 hours this time.
Update: Mar 20, 2012
The previous Tecnifibre NRG2 Gauge 16 for both main and cross did last almost twice longer, but it felt almost dead when reaching the end. The funniest thing is I didn't break the string, but it gave up by itself automatically last night when sitting in the corner.
Anyway, I've tried to hit my other spare Extreme Pro with Black Code which is a full poly with excellent result and feel, I think I will switch it completely to Black Code for both of my rackets. I do have concern using full poly as they tends to hurt arms of many, but since Black Code is a very soft poly string, so let's see.
Update: Mar 28, 2012
Poly is definitely hurting my arm and shoulder, so I've decided to switch back to NRG2 multi with Gauge 16 for Main (58lb) and Gauge 17 for Cross (60lb).
Update: Jul 5, 2012
I found Extreme Pro feels the best a few hours before I broke the string, so I decied to lower the tension this time, still the same NRG2 multi, Gauge 16 for Main (58lb) and Gauge 17 for Cross (60lb).
Update: Oct 22, 2012
The previous NRG2 last 3 times longer (ie, 3 months) because I was switching between POG and Head EP. Anyway, I have a new thought today when visiting the pro-shop, since my Extreme Pro is very stiff, why not try to put on a traditional synthetic gut which is very soft. So this time I restrung with Prince Synthetic Plus Gauge 16, Main (58lb) and Cross (60lb), the shop owner told me it may not even last longer than NRG, strange! As my existing Prince Synthetic Guts (15) normally last for 4-5 months, well, will try it out this Friday.
By