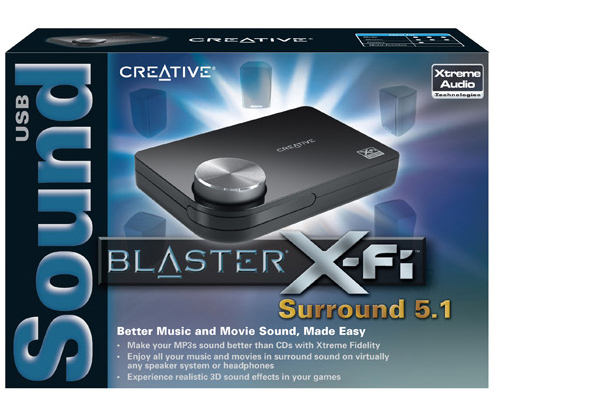 For the past whole week, I was thinking turning my 3 year old Dell notebook into a media center, but the build-in soundcard (SimTel) is just too crappy and cannot produce the sound I wanted. It's not until I found IT today, the magically Creative X-Fi SoundBlaster Surround 5.1 (USB)! It's so perfect as it even comes with optical out to my EX-A15 amplifier.
For about HK$500, it immediately turned my notebook into a powerful media center, USB output from the notebook connects to SB X-Fi DAC, then either using digital (optical) or analog output to JVC EX-A15.  
I can play all the un-compressed source like FLAC, APE now on my JVC woodcore speaker, and all my RMVB or MKV HD sound quality became so much better, it's just absolutely BEAUTIFUL!!!
Together with a Logitech wireless keyboard and mouse, I've finally completed the project of my digital media center that I always dreamt about!
Thank you so much Creative! You made my day!
General Specifications 

High Definition Audio Quality

High Signal-to-Noise Ratio (SNR) exceeding 100 dB using high linearity, low distortion 24-bit converters with resolutions of up to 96 kHz.

24-bit Digital-to-Analog conversion of digital sources during playback in 24-bit with sampling rate of up to 96 kHz in 5.1 mode without audio monitoring.
 

24-bit Analog-to-Digital conversion of analog sources during recording in 24-bit with sampling rates up to 96 kHz without audio monitoring. 

X-Fi Crystalizer

Enhances musical dynamics by emphasizing sharp percussive sounds and transients 

X-Fi CMSS-3D

X-Fi CMSS-3D Surround: Upmixes stereo sources to 4, 4.1 or 5.1 channels

X-Fi CMSS-3D Headphone: Provides a multichannel playback experience over headphones for all types of content

X-Fi CMSS-3D Virtual: Provides a multichannel playback experience over two loudspeakers for all types of content
Update:  Nov 24, 2011
I just found out JVC EX-A15 doesn't support 96Khz Optical input, so the maximum is 48Khz 24Bits for Optical input. However the strange thing is Analog at 96Khz and 24 Bits is fine.
I also notice Creative released the updated version of its magical box which supports HD now, after all it's still around HK$8xx and much cheaper than other DACs in the market. 
In additiona, I found Creative has also released two upgrade version called X-Fi Surround 5.1 Pro and X-Fi Surround 5.1 HD.
Finally, I am going to add a 8″ sub-woofer to my JVC EX-A15 shortly, this will definitely enhance my mini Hi-Fi sysem to another level.
By