Well, it's about time, battery normally last for 3 years, this is the first time I encountered such error and the 2nd time EQL went wrong, the first time was due to a failed disk.
event: 28.4.31
time: Sun Jul 14 21:43:29 2013
NVRAM battery failed. Power failure could result in loss of data.
Critical health conditions exist.
Correct immediately before they affect array operation.
NVRAM battery failed and must be replaced.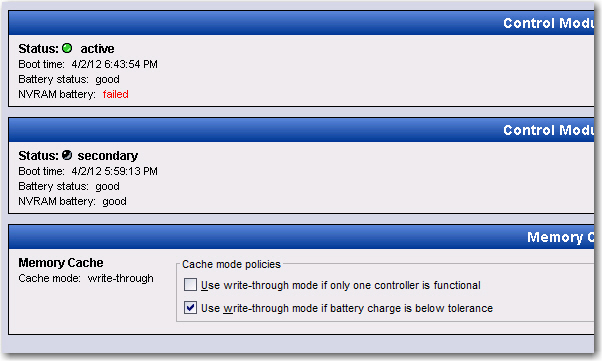 There are 1 outstanding health conditions. Correct these conditions before they affect array operation.
Active control module cache is now in write-through mode. Array performance is degraded.
Note the Write Latency shoots up right away because Write Back Mode is disabled although you can force to use Write Back mode.

Called Dell Pro-Support, will replace by tomorrow, cause I don't feel doing it tonight.
Update: 7/15/2013
Dell's engineer came to the site this afternoon and fixed the problem within 5 minutes, simply swapped out the active controller card (where NVRAM battery failed), and almost right away the standby controller kicked in, I noticed only 2 ping were lost in both grpadmin and vm IP address during the controller switch over. Finally the engineer said I'm probably the first one in Hong Kong who had a battery failed in EQL, most of the problems are related to disk, the power supply, then controller card.
I can't think of any reason anyone don't like this kind of high redundancy with easy maintenance built in mind! Bravo! Equallogic!
By