Finally I've got time to test drive vCenter Operations v5.0.3 Enterprise as it is one of the most important products VMware is trying to push over the past year.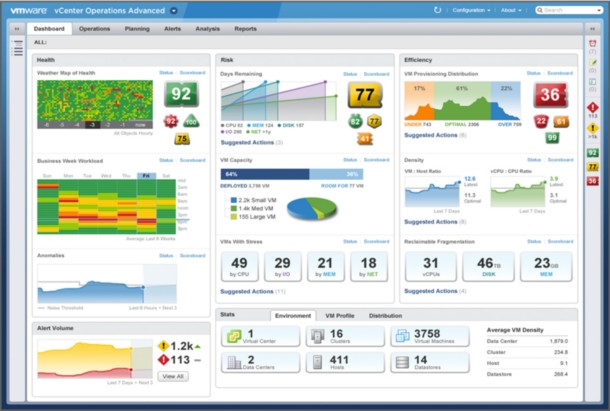 I came across this 3 parts blog posts which really gave me many insights into this product regarding installation tips, how to use it and pros/cons about vCOPS. If you are like me who don't like reading the thick official manuals and prefer to be on a quick track type, then the following is a must reading.
Using vCenter Operations v5 – Introduction and deployment (1/3)
Using vCenter Operations v5 – What's new (2/3)
Using vCenter Operations v5 – Capacity features and conclusions (3/3)
The last part really brings out the fruit as the price of vCOPS is significantly higher than competitor's product such as Veeam ONE, vFoglight or VMTurbo. I've tried all 4 of them, each product has it's selling point and I would like to see a combination of the four: an intuitive overview, quick showing the top 10 problem VMs and recommended solution, of course capacity planning is a nice add-on. However there is none, that's why I uses 3 of them at the same time for troubleshooting.

vfoglight started out at $230k four months ago and ended at ~90k for 150 sockets plus 1 week of onsite professional services/training and the first year of maintenance.

vC Ops mgr enterprise started at $1.2 million and came down to $135k. No professional services or training. Add 22% of list price per year for maintenance. So the final cost is still unknown.

Somehow the final price is really negotiable which I didn't know until today, of course don't expect you will get $1,000 if the list is $100,000.
Two more things I wasn't quite satisfied with:
The first thing is the two fat VMs vCOPS is trying to deploy, at the end I reduced UI VM to 1GB (later proved needs at least 2 GB) and Analytics VM to 2GB, both with 1 vCPU and Thin Provisioned disks, still more than enough, probably at my testing vCenter environment has less than 50 VMs.
The other thing is No Equallogic Plugin (or Adpater) for vCOPS, it would be nice to see how vCOPS predicts the What If scenario for storage usage in terms of IOPS, but isn't SANHQ already did a fantastic job? So why need another tool?

In my own opinion, for daily virtual infrastructure performance troubleshooting, I think Veeam Monitor (or latest called Veeam ONE) FREE Edition is more than enough for organization who has less than 100 VMs, so I intend to agree with many other's opinion that vCOPS is just an oversized beast for SMB.
One Response to "vCenter Operations (vCOPS) v5.0.3, Is It Really for SMB?"