一年一度的城中盛事﹗ Don't Miss It!!!
[Coming soon]Bonhams Presents 2009 Chater Road Classic Car Show
Bonhams, the world's foremost classic car auctioneer, and the Classic Car Club of Hong Kong invite you to attend the 2009 Chater Road Classic Car Show on Sunday, 25 October.

About 100 of the finest classic cars and classic motor bike in Hong Kong including the current Concours d'Elegance winners will be displayed along the entire length of Chater Roadin Central to celebrate the 30th anniversary of the Classic Car Club ofHong Kong. Among these rarely seen vintage automobiles are a Ford GT40,the blue oval that toppled Ferrari in the Le Mans24 houres in the mid-1960s, a lineup of Morgans, to celebrate themarque's centenary, classic American Mustangs and Corvettes, and exoticFerraris and Lamborghinis.

Uniqueauto attractions displayed in a "cute corner" include gems such as a1959 Isetta (the single-doored BMW), and the heroic juggernaut 1918American LaFrance (a 14 litre, artillery-wheeled monster), which hasjust returned from a marathon trip from Hong Kong to Beijing and Paris!

[預告]Bonhams呈獻2009遮打道老爺車展
世界最著名老爺車拍賣行Bonhams與香港老爺車會誠邀廣大市民參加2009遮打道老爺車展,時間定於10月25日(星期日)。

為慶祝香港老爺車會30周年紀念,本屆車展有大約100輛老爺車及老爺摩托車出席,包括最優雅老爺車冠軍得主,全部都會在整條遮打道上展出。除此之外,更有非常罕見之Ford GT40、1960年代中期勒芒24小時大賽Ferrari賽車、Morgan系列(慶祝100周年紀念)、經典美國Mustang與Corvette,以及Ferrari與Lamborghini。

極罕有車型包括1959年Isetta;以及超重型車1918年American LaFrance(14公升引擎龐大機器),該車剛剛完成從香港到北京及巴黎的漫長歷程。
Released by Classic Car Club of Hong Kong
資料由香港老爺車會提供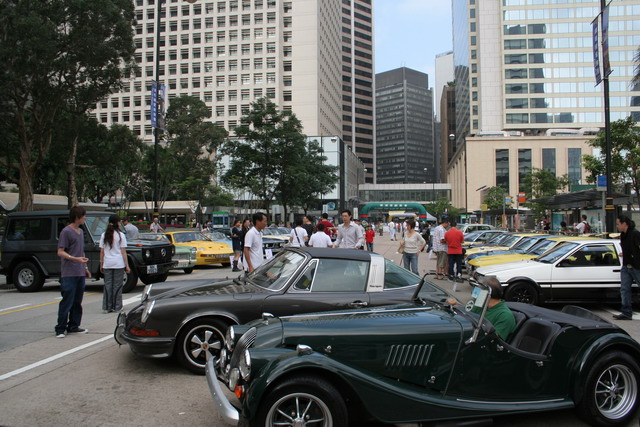 By