上次Tecnifibre新出的Black Code 4S 18g/1.20mm使用感覺一直都很硬 (也就是甜點比較小),大概維持了7個月就自動斷線了。
這次聽一位師兄介紹,挑選了這個比Black Code硬度更為低的Poly線Solinco Tour Bite Diamond Rough 17g作為Main (52lb),而Cross則配搭之前用過比較硬的黑色Babolat RPM Blast 17g (55lb)。
開始的時候感覺整幅線床不夠Power,但用了大概一個鐘頭後,就開始慢慢適應了。發現整體感覺還是不錯的,尤其是發球,沒有再像以前震動得那麼利害 ,而且兩個鐘頭後手臂也沒有出現之前的酸軟,很可能跟Diamond Rough作為Main導致線床比較軟的原因。
最後發現不同網球線製造商的規格原來存在著輕微差異,譬如大家雖然都是Gauge 17但直徑(mm)還是有分別的。
Tecnifibre 17 = 1.25
Wilson 17 = 1.24
Solinco 17 = 1.20
Head 17 = 1.30
Solinco Tour Bite Diamond Rough 17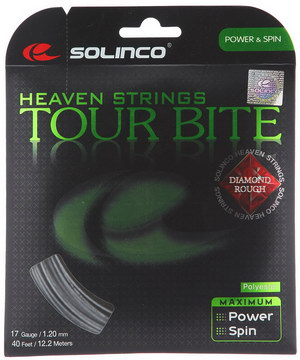 Solinco Tour Bite Rough is a textured co-poly with a phenomenal blend of precision and spin potential. The firm feel and extremely predictable response will enable players to take huge cuts at the ball. A great option for strong intermediates and advanced players who like ripping the cover off the ball. Try this thin gauge for even greater spin potential. Feels slightly softer than the original Tour Bite.
Gauge: 17g (1.20mm)
Length: 40ft/12.2m
Construction: Co-polyester
Color: Silver
Update: July 31, 2016
Last set didn't even last for 3 months, but did produce good feeling, so I went back to the same set again, but this time 53lb x 55lb.
Update: Nov 14, 2016
The combination lasted more than 3 months this time, I decided to go for it again. this time string tension is 53lb x 53lb.
Update: Feb 1, 2016
The combination lasted for 2 1/2 months only!