I was really crazy back then when I was 20 something, buying lots of Reebok stuffs, from his tennis shirts, to shorts, to different Reebok pump shoes, there is one version even pumped with high-tech nitrogen costed USD130 back then. (exactly the one showing in the following picture)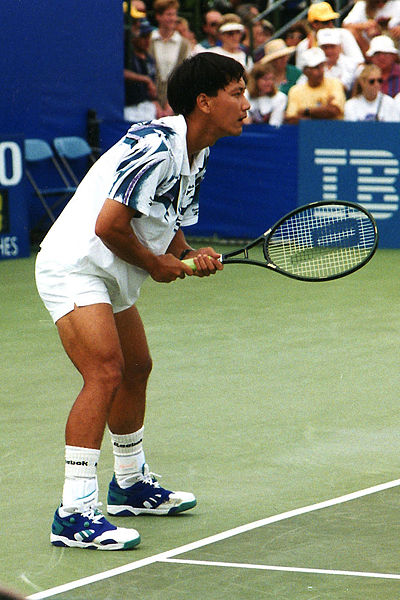 Of course, his Prince Graphite Oversize is still my all time favourite, still using it after 20 years and going strong, the only rkt that doesn't give me elbow pain after playing over 2 hours, amazing 80s technology!
I still remember there is a really cool TV commercial about first generation of Reebok Pump Court Victory (the neo blue with yellow pump one), Michael hits with a ball machine, and at the end there is not a single ball on his side meaning he's able to hit all the ball over the other end, then he swing his rkt like a Amercian cow boy using their guns or something, I noticed it's not POG, but Prince Boron, which comes with Two stablizer bar.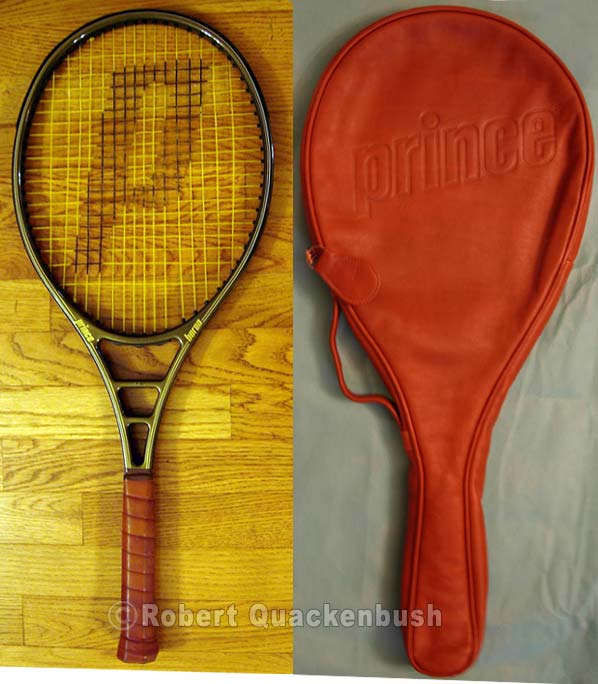 I still have the POG cover almost like new, must bring it for him to sign in coming 香港網球精英賽 in Jan 2010!
PS. Btw, there is a side story, I found one POG Oversize with 90 printed on top instead of 110 or mid-plus or oversize in MRS last night, the shop owner told me it may be fake, but as far as I know there isn't fake POG back in the 80s, could it be something 錯版﹖May be I shall ask in TW forum as well.
Update on Nov 30, 2009, finally I have found the video and it was my mistake, the racquet should be POG instead of Prince Boron, but I am not totally convinced as I remembered somewhere the racquet showed two bars instead of one, anyway.
Finally some history about Prince:
Prince Milestones

1970 Working in his garage, Bob McClure invents Little Prince, the first tennis ball machine for home court use, and Prince Manufacturing – named after the town of Princeton , NJ, is born.

1971-1975 Frustrated with his tennis game, Howard Head is introduced to the Prince Ball Machine. Soon he feels compelled to work out a few design bugs in the Ball Machine. Before you know it, he is majority owner and Chairman of the Board.

1976 As Prince's Ball Machine prospers, Howard Head still struggles with off center hits and lack of control, motivating him to invent the first patented Prince oversized racquet, the Prince Classic. At 110 square inches, its revolutionary design changed the game and became the most successful racquet of its time.

1977 The Prince Graphite establishes Prince as the material technology leader, the first "top players" graphite racquet quickly becomes the standard by which all others are compared. Today it is still the choice of many top pros.

1978 The larger racquet headsize places greater demands on string, so Prince develops its first multi-filament string which becomes the top selling string that very same year.

1979 Prince introduces the Prince Pro, the world's best selling aluminum racquet and the racquet Pat Cash uses to win Wimbledon .

1980 Prince begins designing functional sport bags and ultimately becomes the leader in this important category.

Prince combines the best of the old and the new by bringing together traditional wood and modern graphite technology in a revolutionary racquet, the Prince Woodie.

1982 Responding to the more practical aspects of the game, Prince introduces the P-200 Stringing Machine.

Prince Manufacturing, Inc. sold to Chesebrough- Ponds, Inc. Company sales continue to increase, and manufacturing capabilities were added in 1983 resulting from the acquisitions of Grafalloy Corp. in El Cajon , Calif. , and Grafamex in Mexicali , Mexico .

1984 Prince introduces its first line of tennis wear, continuing its commitment to serve a tennis player's every need.

1985 Prince combines graphite, fiberglass and Kevlar in a racquet that becomes a best seller in specialty stores worldwide, the Prince Spectrum Comp.

Prince sees the need to go beyond the all- purpose tennis shoe and develops a lightweight and durable shoe for tennis, the TPU-4000.

1987 In January, Unilever N.V., an international consumer products company, acquired Chesebrough-Pond's. This provided an opportunity for Prince management, in conjunction with Brentwood Associates, a private investment firm located in Los Angeles , to purchase the company. This transaction was completed in August of 1987. That same year, the Company entered the international squash market with the introduction of squash racquets and a line of accessories.

1988 Prince entered the men's and women's apparel market in Europe to further expand its brand worldwide. Demonstrating its strategy and commitment to growing its business, Prince purchased Ektelon, the global leader in racquetball.

1989 The graphite Prince Extender changes the future of squash with its longer main strings which dramatically enlarge the powerzone. Now the #1 selling squash racquet in the world.

Prince creates the Constant Taper System (CTS), the revolutionary "tip to Grip" racquet performance system that delivers more power without compromising control or comfort.

Michael Chang wins the French Open with the Prince Original Graphite racquet.

1990 Prince joined the Italy-based Benetton Group SpA, a global $1.7 billion lifestyle consumer products company, incorporating Prince into Benetton Sport system USA, Inc.

1996 Michael Chang climbs the rankings to the #2 player in the world after switching to the Prince Precision Michael Chang LongBody racquet

1997 Patrick Rafter wins the US Open with the Prince Precision Response racquet.

1998 1998 Patrick Rafter wins his second consecutive US Open using the Prince Precision Response racquet.

Jana Novatna wins Wimbledon with the Prince Thunder Lite racquet.

1999 Prince's technology and innovation has continually revolutionized the game of tennis. Prince introduced the Triple Threat Racquet Series in 1999, which offered a revolutionary new weighting system. Triple Threat technology was the game's first and only racquet technology to offer perfect balance and stability.

2001 Prince introduced Tungsten, a strong dense metal, into the Triple Threat 2001 Series. This new addition heightens racquet stability and provides the highest level of power and precision on the market today.

Jennifer Capriati wins both the Australian Open and French Open using the Prince Triple Threat Rebel racquet.

2002 In January Prince introduced the MORE Performance line of tennis racquets. MORE Performance racquets are the first racquets in history that are built using Prince's revolutionary PowerLock technology – a unique patented molding technique that creates string channels so that absolutely no drilling of the racquet is required.

Jennifer Capriati wins her second consecutive Australian Open using the Prince Triple Threat Rebel racquet.

2003 Prince introduced the S Series to the MORE Performance.
By